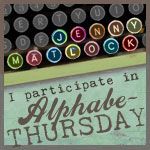 Thursday, time for my favorite class of the week, Alphabe-Thursday. Mrs. Matlock is such a great teacher, we have flown through the alphabet. I can't believe that we are up to V already!

If you have read my blog for long, you know that I love music, and I really love jazz. So for me, V was easy - vibraphone!









Many people confuse the vibraphone (or vibes) with a xylophone or marimba. The difference is that vibes have metal tubes instead of wood, giving a very distinctive sound.


Lionel Hampton is probably the best known vibes player. He almost single handedly brought this instrument to popular jazz music prominence. A drummer, he supposedly started playing around with a set of vibes at the NBC studios. Yep, the very same vibes used to play the famous NBC "Chimes". He started experimenting and playing with the instrument and became so enamored of it that he soon concentrated on this instrument alone.




This is part of Cait's recital at UNT last year. The vibes player is one of her very best friends. They have been in band together since she was in the 6th grade, and recently graduated from the College of Music together. Warning, this is an extremely long video, but I could not for the life of me figure out our editing software! So I just uploaded from you tube :)



Hope you enjoyed my choice for V this week. Make sure to stop by Mrs. Matlock's class and read everyone's essays. This should be an interesting week.